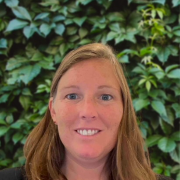 Ashley Wolstein
Global Teacher
Ashley Wolstein was born in Traverse City, Michigan. She studied teaching at Eastern Michigan University before moving to Hawaii where she spent most of her teaching career and earned two Master's degrees. While teaching in Hawaii, she realized that she wanted to learn more about adolescent literacy to better meet the needs of her students and enrolled in a Doctoral Reading Education program. She earned her PhD in Reading, Language, and Literacy from Concordia University Chicago in December 2022.
Ashley left Hawaii in July 2019 to join her husband in Dallas, Texas and begin teaching at an international school. This experience developed her love and passion for international education, and she is excited to teach in the Dual Diploma program. Throughout Ashley's career, she gained experience teaching pre-AP classes and International Baccalaureate classes. She also works as an Assessment Author for the IB.
Outside of teaching, Ashley enjoys stand-up paddle boarding/canoeing, hiking, biking, and most of all, spending time with her five boys: one husband, two sons, and two dogs. She looks forward to learning with you this year!