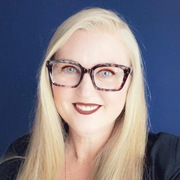 Frances Eawaz
Global Teacher
My name is Frances Eawaz, and I am excited to be your instructor this year. I have been teaching students from ages 11-18 for many years, and I absolutely adore my students. I live in Florida, USA. Spending time with my family and my dogs, reading, and traveling are my favorite things in the world. It is my dream to one day travel to the European continent and see beautiful places and meet amazing people.
I have been married since 2000, and I have a son who is in high school. My certifications consist of English 6-12 and Social Sciences 6-12, but no piece of paper can certify you to make a difference in the lives of young people. I truly hope students know they can rely on me to educate them, encourage them, and empower them to learn independently for years to come!
Ashlee Middleton
My name is Ashlee Middleton. I was born and raised in Sarasota, Florida and attended college at The University of South Florida in Tampa. I graduated in 2009, magna cum laude, with my Bachelor of Arts Degree from the College of Arts and Sciences.
From there, I pursued my professional teaching certification and became certified in English 6-12, Journalism, and Social Sciences 6-12. I have been teaching for 9 years at the high school level. During this time, I have been honored as Sarasota County's High School Teacher of the Year, received the Congressional Teaching Award and served my prior school as professional development coordinator and a mentor to new teachers.
This is my second year as a Dual Diploma teacher, and I am looking forward to another great year with the students. I love teaching and creating meaningful experiences that enhance our students' education.
Outside of school, I am a wife and mother to two beautiful children. When I am not teaching, I am spending time with my family and creating memories to last a lifetime!