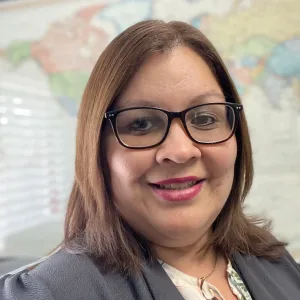 Paola Espinosa
Global Teacher
One of the highlights of my life was entering the world of Education. After graduating from college with a major in Communications, I decided to explore different facets of the media. I learned a great deal in various areas. I decided to change careers and became a teacher in 2005 – soon after, I learned I was in it for the long run. Thus, I decided to pursue additional certifications and endorsements as well as a Master's degree in Educational Leadership. Since then, I have worked in various roles in education: teaching, coaching/mentoring, and administration. I truly believe education is my calling.
I am so excited to be a part of the AVE family! I'm really looking forward to meeting all my students and educating them to my fullest capacity. My diverse background in both the private and public sector has always served as great assets with the different roles I've had in education – looking forward to sharing all this in Academica's virtual platform at AIS!
My other passion is motherhood. I am a proud mom of four wonderful children: two boys and two girls. In my spare time, I enjoy time with family and friends. My husband and I love to travel and show our kiddos a new place every year. I also enjoy reading – particularly historical/realistic fiction – and enjoy the outdoors (when not too hot, of course).