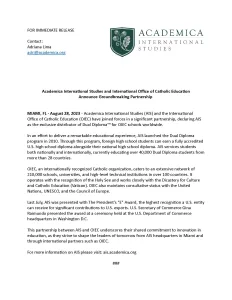 MIAMI, FL – August 28, 2023 – Academica International Studies (AIS) and the International Office of Catholic Education (OIEC) have joined forces in a significant partnership, declaring AIS as the exclusive distributor of Dual Diploma™ for OIEC schools worldwide.
In an effort to deliver a remarkable educational experience, AIS launched the Dual Diploma program in 2010. Through this program, foreign high school students can earn a fully accredited U.S. high school diploma alongside their national high school diploma. AIS services students both nationally and internationally, currently educating over 40,000 Dual Diploma students from more than 28 countries.
OIEC, an internationally recognized Catholic organization, caters to an extensive network of 210,000 schools, universities, and high-level technical institutions in over 100 countries. It operates with the recognition of the Holy See and works closely with the Dicastery for Culture and Catholic Education (Vatican). OIEC also maintains consultative status with the United Nations, UNESCO, and the Council of Europe.
Last July, AIS was presented with The President's "E" Award, the highest recognition a U.S. entity can receive for significant contributions to U.S. exports. U.S. Secretary of Commerce Gina Raimundo presented the award at a ceremony held at the U.S. Department of Commerce headquarters in Washington D.C.
This partnership between AIS and OIEC underscores their shared commitment to innovation in education, as they strive to shape the leaders of tomorrow from AIS headquarters in Miami and through international partners such as OIEC.
For more information on AIS please visit: ais.academica.org